"Rough Seas"
Having put the HMS Resolution to sea from Nootka Sound, Alaska on April 26th, 1778
Captain James Cook encountered a storm that eventually, as he put it in his journal:
"Blew a perfect Hurricane..." He judged that he could no longer run
before the storm and must bring the ships head to Southward under
the foresails and mizzen stay-sails. To add further drama to the situation,
it was about this time that the Resolution sprung a leak.
In this print, Charles has attempted to
portray this perilous period of time when the hardy crew members
are taking in the sails and re-rigging in order to survive the storm.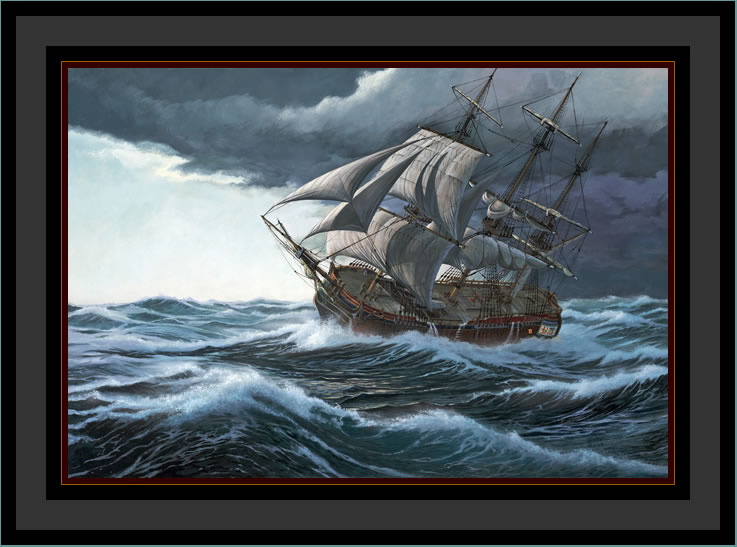 "Rough Seas" is reproduced from an original acrylic painting and published in a limited collectors edition of 50 S/N Canvas Giclee prints. With 10, S/N Artist Proofs. and 5 Artist's reserve AP's, Canvas is mounted on Gatorboard to prevent future sagging and restretching.. (Note: prints are sold unframed, framing shown is only a sample)
10 Artist's Proof Edition.......Sold Out
5 Artist's Reserve AP Edition, ....Sold Out
50 Collectors Edition
20" x 30" (Unframed mounted canvas)
Price: $2000.00 + S&H Each