New Giclee Release "Off the Barren Isles"
In the month of May 1778, Captain James Cook in HMS Resolution sailed southwest off the coast of Alaska's Kenai Peninsula following Vitus Bering's charts until he found a space (Cook Inlet) where there seemed to be no land to the north. His observations inspired him with hopes of finding there a passage northward without being obliged to proceed any farther to the southwest. While in this situation, land came in sight, bearing north-west half north. Cook steered directly for it and on nearer approach found it to be a group of high islands and rocks entirely unconnected with any other land. In his own words; "They obtained the name of Barren Isles from their very naked appearance." The Captain intended to sail through one of the channels that divide these islands but meeting with a strong current against the ship, he bore up and went to the leeward of them all.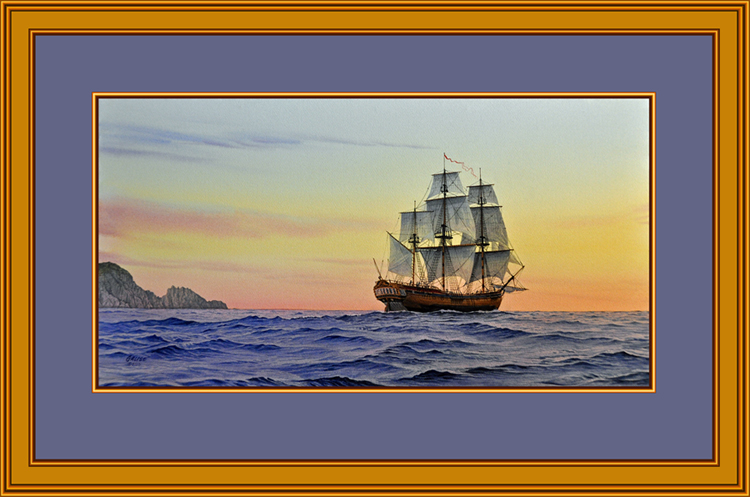 "Off the Barren Isles" 11" x 20.75", is reproduced from an original watercolor painting and published in a limited collectors edition of 100 S/N Deckled Edge Giclée prints. With 25 S/N Artist Proofs. and 10 Artist's reserve AP's, (Note: prints are sold unframed, framing shown is only a sample)
Introductory Price
100 Collectors Edition, .........$275.00 + S&H
25 Artist's Proof Edition.......$375 + S&H
10 Artist's Reserve AP Edition, ....$495 + S&H... Hurry only 2 left!
These Giclée prints are reproduced on Hahnemühle Bamboo archival paper with a deckled edge.